For the 2020-21 School Year Link Up! The Orchestra Moves is fully digital.  Lessons will be available digitally along with virtual classroom visits and Q&A sessions.
All schooling structures are welcome.
For Questions please email education@sacphilopera.org -or- Click here to register!
What is Link Up?
In Link Up, students in grades 3–5 are invited to join the Sacramento Philharmonic & Opera in an interactive and engaging program. Students learn to sing and play orchestral repertoire through the hands-on Link Up curriculum, then perform along with the Sacramento Philharmonic & Opera from their seats in a highly participatory culmination concert at the Community Center Theater.
Click here to see what the program looks like in action with local Sacramento students!
Our Programs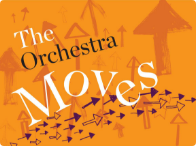 The Orchestra Moves
By any definition, music moves. Melody, rhythm, and harmony all change, shift, and develop. When an orchestra plays for us, we may notice more than one kind of movement. On the outside, we can hear sounds move as the musicians change their pitches, rhythms, and dynamics. We can see the musicians' bodies move as they play. On the inside, we may feel our emotions moving and changing in response to the music we hear. Sometimes music might even create a sense of physical movement as sounds become heavier or lighter, rise up or tumble down. Through the Link Up repertoire, hands-on activities, and a culminating interactive performance with a professional orchestra, we will discover how the orchestra moves.

Resources
WAYS TO PARTICIPATE
LINK UP CONCERT PROGRAM
Every classroom registered for the Link Up concert program receives the tools and resources to prepare students for the final concert. All Link Up Concert Program participants receive:
Link Up teacher guide and online resources
Professional development workshop
Access to Virtual Classroom visits and 1-on-1 teacher problem solving sessions.
Access to the 'Culminating Concert' in a digital format
IMPORTANT DATES
CULMINATING CONCERT
Digitally available at a TBD date near the end of the school year.
PROFESSIONAL DEVELOPMENT SESSIONS
3 webinar style PDs will be given over fall 2020 – Exact dates TBD
1 webinar style PD in early 2021 – Exact date TBD
Recordings of Sacramento based and New York Based PDs available online.
CONTACT US
If you have questions or need more information about Link Up, please contact our Education Team at [email protected]
ONLINE RESOURCES
For more information about the Link Up program and four curriculum offerings, please click here.