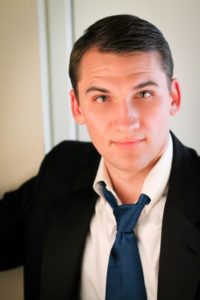 Tenor, Aaron Gallington, has distinguished himself throughout California as a powerful and expressive vocal artist.
Mr. Gallington is a native of the Golden State and currently resides in Fair Oaks, California where he works as an elementary music teacher and professional singer in the Sacramento region. He is a graduate of Pepperdine University and studied with American tenor, Henry Price. He began his operatic career singing Rodolfo in La Bohème followed by Laurie in Mark Adamo's Little Women. As an undergraduate student, Mr. Gallington was the recipient of several academic and performance awards, including scholarships for both his acting abilities as well as his vocal talents.
He spent several years singing with Santa Barbara Opera as well as with the University of California, Santa Barbara where he earned his graduate degree. While there he appeared as Duke Orsino in the West Coast premier of Twelfth Night composed by Joel Feigin in collaboration with the UCSB Opera Theatre Program. He also portrayed Javier in the UCSB Opera Theatre production of Luisa Fernanda.
In 2015, he appeared with Lamplighters Music Theater as Ralph Rack-straw which toured the San Francisco Bay Area and was awarded the Outstanding Production of a Musical in the 2015 Theater Bay Area Awards. Mr. Gallington has been recognized with many academic and performance awards, including the James Toland Vocal Arts competi-tion in Oakland, California in 2016 and 2017.
Mr. Gallington regularly appears with Sacramento Philharmonic and Opera and has sung in multiple productions with the chorus, as well as several roles including Borsa in Rigoletto and Officer in Il barbiere di Siviglia. In addition he's sung with Camellia Symphony and the Sacra-mento State Opera Theatre.
Mr. Gallington keeps an active schedule as a professional singer, voice teacher, and elementary music educator in the Sacramento region.
Currently In